Improve Your Comfort and Energy Savings With Spray Foam Insulation

Here at Southern Ohio RetroFoam, we have two kinds of spray foam available for your home, pole barn, commercial building, or other insulation projects. We offer both open cell and closed cell spray foam.
While both products offer the air seal you're looking for, they have different qualities. If you're looking for a quieter home, then open cell spray foam is for you. If you're looking to combat moisture issues in your home, then closed cell spray foam may be a better option.
The open cell spray foam we use is totally water blown. It is designed to make structures more energy efficient, quieter, healthier, and more comfortable. Our open cell spray foam expands around 100 times its initial mass to seal all of the cracks and crevices where you're experiencing air leakage.
The closed cell spray foam we use is a two-component polyurethane foam insulation. While it doesn't have the expansion rate of our open cell, it is much more rigid and still fills all of the building cavity to ensure you have an air seal.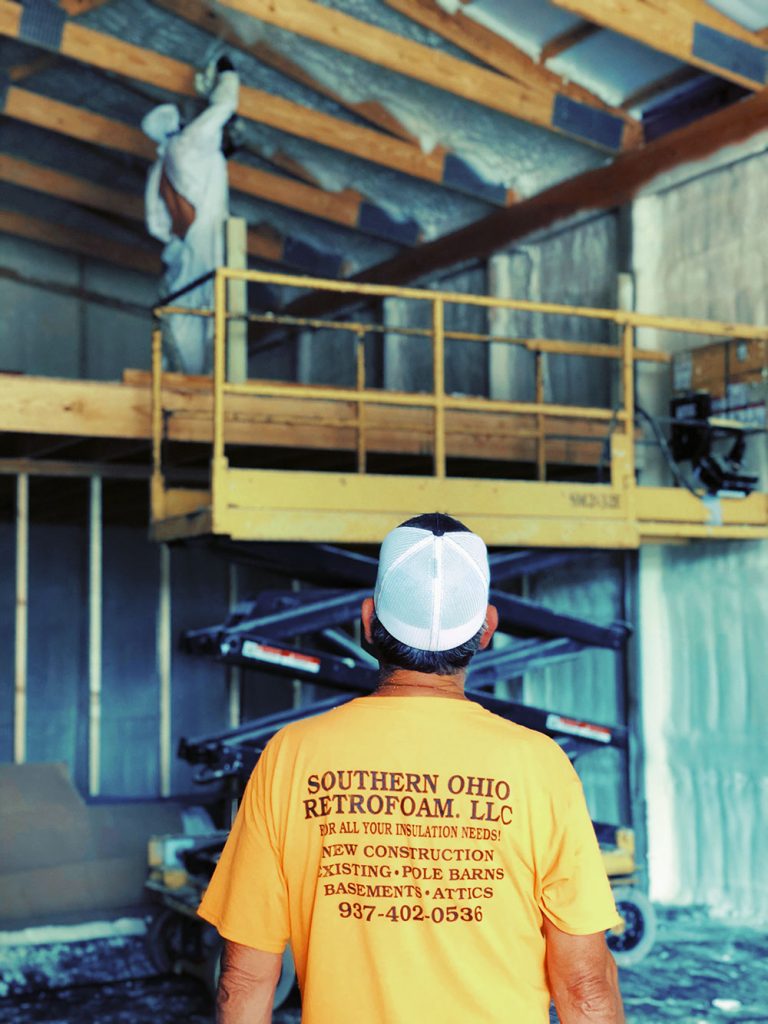 Benefits of Spray Foam Insulation
The air seal that spray foam insulation creates in your home, pole barn, or commercial building will save you money on your heating and cooling bills, but will also create a comfortable space you like to spend time in. Those drafts, hot and cold spots, and drafts will be a thing of the past.
Adding structural integrity to your building can give you peace of mind, no matter what Mother Nature throws at you. Studies over the years have shown that closed cell spray foam added to the walls can increase the resistance to high winds. The same study found closed cell under the roof deck provides almost three times the resistance to wind uplift.
How can you relax in your own home when you can hear every little noise from the outside? Open cell spray foam has sound deadening qualities that can reduce that noise coming into your home by up to 80 percent.
Spray Foam Insulation in Your Existing Home, New Build Home,
Pole Barn, Commercial Building, or Box Van
Whether it's in your existing home, new home, pole barn, commercial building, or even your cargo van, we can install spray foam where you need it.
The installation process is quick and easy, with minimal hassle for you.
Attic
Exposed Walls
Crawl Space
Crawl Space Floor
Basement
| | |
| --- | --- |
| | |
| | |
| --- | --- |
| | |
| | |
| --- | --- |
| | |
Spray Foam Insulation FAQs
Customer Review
"We can already tell a big difference. The floor furnace we use in the house we normally have to have it on 75-78 to even get a little heat in the bedrooms. We've had it on 68 the past three nights and it almost runs us out of there its so hot now!"
-Seth H.
Enjoy Lower Monthly Heating and Cooling Bills
Are you ready to have more money in your wallet each month? If you're tired of giving all of your hard-earned money to your utility
company each month, have us out to give you a free quote for spray foam insulation.
We can take a look at the space you want to insulate and answer any questions you might have.
Now is the time to take those first steps to make your home, pole barn, commercial building, or work van a more
comfortable space by filling out the form below for a free quote.